Safeguarding
Newton Westpark Primary School is committed to safeguarding and promoting the welfare of children and expects all staff and volunteers to share this commitment.
Parents and carers expect our school to provide a safe, secure and caring environment in which their children can flourish. To meet this expectation we have a number of policies and procedures in place that contribute to our safeguarding commitment, including our Safeguarding & Child Protection Policy which is available on request and can be downloaded from our schools website under the policies section.
Sometimes it is necessary for us to share information and work in partnership with other agencies when there are concerns about a child's welfare. We will ensure that our concerns about our pupils are discussed with parents/carer first, unless we have reason to believe that such a move would be contrary to the child's welfare.
Newton Westpark Primary School also follows the procedures set out by the Wigan Safeguarding Children Board and the statutory guidance issued by the Department for Education (in particular 'Keeping Children Safe in Education' – September 2018).
Further information about safeguarding in Wigan can be found at:
http://www.wiganlscb.com/home.aspx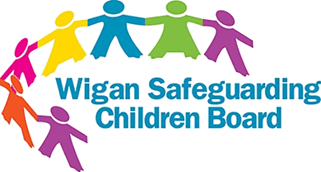 SAFEGUARDING CONTACTS AT NEWTON WESTPARK PRIMARY SCHOOL:
Senior Designated Safeguarding Lead Officer:
Mrs C Whiting (Headteacher)
Deputy Designated Safeguarding Lead Officer:
Mrs J Leech (Deputy Headteacher)
Safeguarding Governor:
Mrs J Roberts
WHAT IS SAFEGUARDING?
Safeguarding is the action that is taken to promote the welfare of children and protect them from harm.
SAFEGUARDING MEANS:
Protecting children from abuse and maltreatment
Preventing harm to children's health or development
Ensuring children grow up with the provision of safe and effective care
Taking action to enable all children and young people to have the best outcomes
Child protection is part of the safeguarding process. It focuses on protecting individual children identified as suffering or likely to suffer significant harm. This includes child protection procedures which detail how to respond to concerns about a child.
Safeguarding children and child protection https://www.nspcc.org.uk/preventing-abuse/child-protection-system/ applies to all children up to the age of 18.
WHAT TO DO IF YOU ARE WORRIED ABOUT A CHILD:
If you are concerned that a child or young person is being harmed through abuse or neglect you should contact the local authority's Safeguarding Children Board (WSCB) on 01942 828300 or the Police on 999 in an emergency situation.
If you would like further information about keeping your child safe, the National Society for the Prevention of Cruelty to children (NSPCC) has lots of advice and guidance: www.nspcc.co.uk
SAFETY ON THE WEB:
E-Safety is an important part of keeping children safe at Newton Westpark Primary School. We have extensive security measures in place in school, which are monitored both internally and externally, to help safeguard pupils from potential dangers or unsuitable material. Any E-Safety incidents are recorded and managed in accordance with our E-Safety Policy. E-Safety is taught to all pupils explaining and demonstrating how to stay safe and behave appropriately online.
Newton Westpark encourages parents and children to visit the CEOP website (Child Exploitation & Online Protection) at https://www.ceop.police.uk/safety-centre/ to build knowledge of how to stay safe online. This website has lots of fun activities from which children can gain vital information on staying safe. Please click on the link www.thinkuknow.co.uk and also see the 5 E-Safe T's below: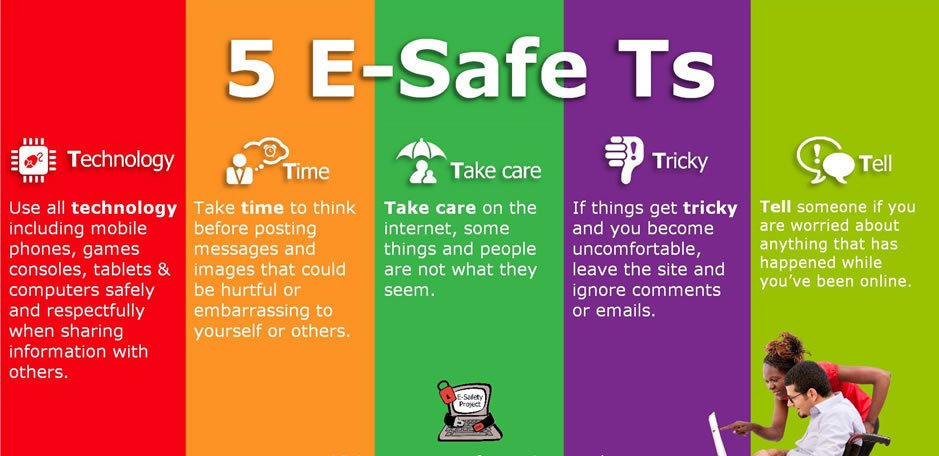 PUPILS SHOULD:
Never reveal information, either their own or others, such as home address, telephone numbers and personal e-mail address etc. Or use photographs of themselves on their web pages unless the parent/guardians have given permission to do so. Never meet people in person that they have contacted on the internet without parent/guardians permission.
Notify their teacher whenever they come across information or messages that are dangerous. Inappropriate or make them feel uncomfortable.
Be aware that the author of an e-mail or web page may not be the person they claim to be.
PHOTOGRAPHS AND VIDEOS
Whilst lots of parents and carers really enjoy seeing photos and videos of their children's school life we are very mindful of our duty of care towards all our pupils. We take the issue of safeguarding very seriously and this includes the use of photographic and video images.
Any photographs or videos taken by parents, carers and relatives at school productions, sports days or other events are for the enjoyment of individual families. They must not be used in any way that could potentially place a child at risk. This would include publishing images in any form of print or on the internet including social media networks sites. This is emphasised before concerts and show etc. and where practical a record of parents and relatives taking photographs or videos is made.
We understand that in exceptional circumstances a parent or carer may not wish their child to be photographed or videoed in this way. If this is the case then please contact the headteacher to discuss how this can be best achieved.
Occasionally, the local press will be invited to take photographs of school events and special achievements. We like to use photographs of our children on our website, in school documents, for parent information meetings, newsletters and on our display screens around the school but only with the permission of parents.
SAFEGUARDING POLICIES:
To view our safeguarding polices and other policies relevant to safeguarding please see the policies link click here.
FURTHER INFORMATION
If you would like further information, please click on the titles below: